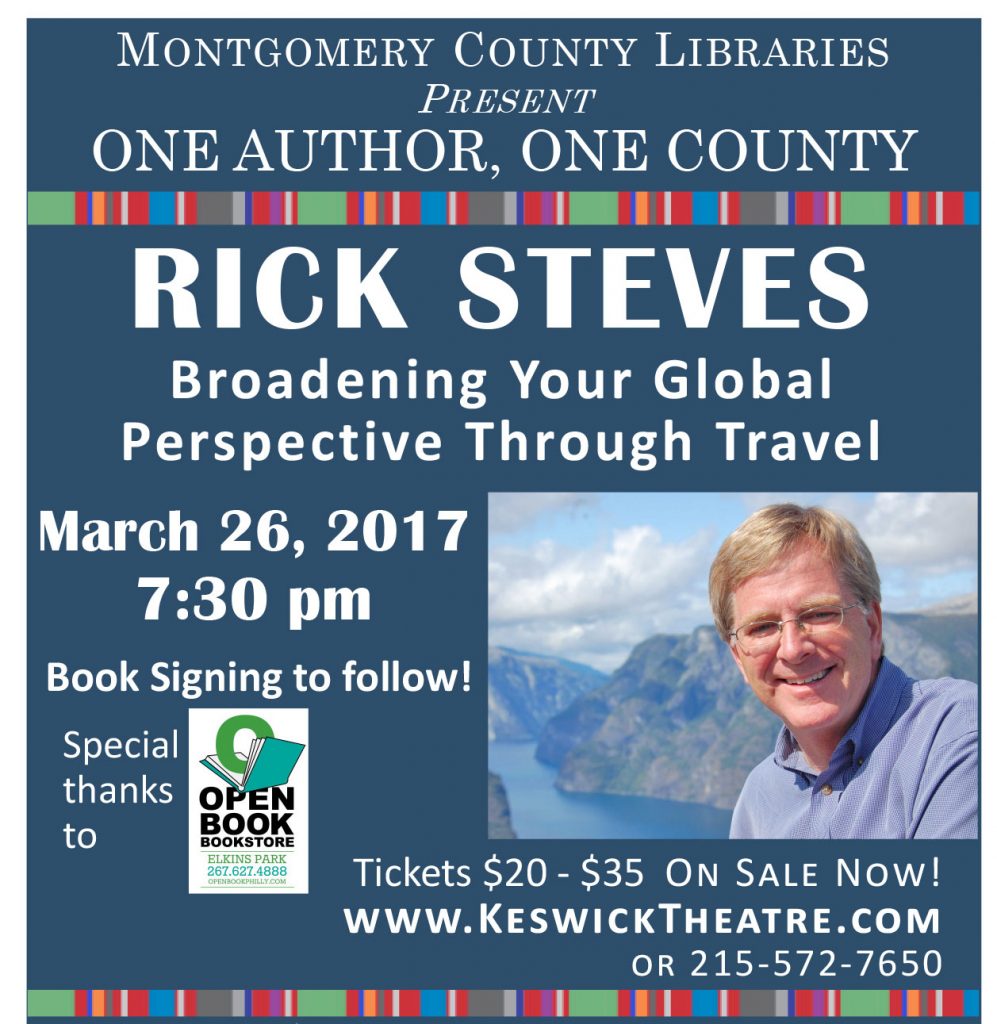 FOR IMMEDIATE RELEASE
Montgomery County Libraries celebrates
ONE AUTHOR, ONE COUNTY with
Author & Television Host Rick Steves
(December 15, 2016)
See bestselling travel author and television personality Rick Steves on Sunday, March 26 at 7:30 pm at The Keswick Theatre, 291 N Keswick Avenue in Glenside. His topic is "Broadening Your Global Perspective Through Travel". Steves appearance is the second ONE COUNTY community-wide event hosted by Montgomery County Libraries. Book sale and signing to follow.
Travel author and television host Rick Steves is America's most respected authority on European travel. Starting with a one-man business in 1976, Rick Steves' Europe has grown into a company of 100 well-traveled employees. The author of over 50 guidebooks, Rick also hosts the popular travel series Rick Steves' Europe on PBS, the weekly NPR travel show Travel with Rick Steves, and a weekly syndicated newspaper column. In 2009, Rick tackled a new genre of travel writing with his book Travel as a Political Act, reflecting on how a life of travel has broadened his own perspectives, and travel can be a significant force for peace and understanding in the world. Rick's books are published by Avalon Travel, a member of the Perseus Books Group.
Join in as every community in Montgomery County comes together to celebrate one of America's best-loved travel icons.
Tickets are $20-35 each and on sale at www.keswicktheatre.com or in person at the theatre box office. Ticket proceeds support ONE COUNTY author events. Special thanks to Open Book Bookstore in Elkins Park, PA.
Complementary events are being held at libraries throughout Montgomery County from March through April 2017.For more information about ONE AUTHOR, ONE COUNTY, visit www.montcolibraries.org. Additional resource: www.ricksteves.com
Montgomery County Libraries is an association of 35 public libraries joining together to provide cooperative services and programs for all county residents.
Media Contacts:

Cherilyn Fiory
cfiory@mclinc.org
Upper Dublin Public Library
805 Loch Alsh Ave
Ft. Washington PA 19034